Saint Augustine's University welcomes media to campus just as the public is welcome to the campus. It is the policy of SAU to be as helpful as possible to news media seeking access to facilities while maintaining the reasonable privacy expectation of students and others. Please contact one of the Office of Communications and University Relations staff members listed below to assist you.
PRESS KIT
Resources approved for use for news purposes find here →
PRIVACY STATEMENT
View the Saint Augustine's University Privacy Statement here →
After a year of demonstrating significant strides, Saint Augustine's University (SAU) continues its efforts toward maintaining its accreditation. During the Southern Association of Colleges and Schools Commission on Colleges (SACSCOC) Annual Meeting in Orlando, FL, the SACSCOC Board of Trustees voted to remove SAU's membership from their accrediting body. SAU will receive an official letter […]
Saint Augustine's University (SAU) is making a significant transition to continue its momentum of progress. The university's Board of Trustees announces Dr. Leslie Rodriguez-McClellon's appointment to Acting President effective immediately.   "At this time, the SAU Board of Trustees has decided to go in a different direction by appointing Dr. Leslie Rodriguez-McClellon as Acting President […]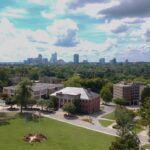 The Department of Education has received a second award from the National Center for Teacher Residencies (NCTR) to develop the teacher preparation program's NC10 Residency Initiative further. The NCTR's goal through this initiative is to contribute to developing teacher residency programs at six HBCUs in North Carolina. Saint Augustine's University is participating in this effort […]
Campus Access
Saint Augustine's University is a private institution, as such all media personnel must receive permission to access campus grounds. Please contact Demarcus Williams at 919.516.4410. 
Photography & Video Rights
Individuals who wish to use photography or video obtained from any SAU website or online account (i.e. social media) should request permission and the appropriate credits from Angelo Robinson 919.516.4194.