Falcon cadet awarded $71,000 scholarship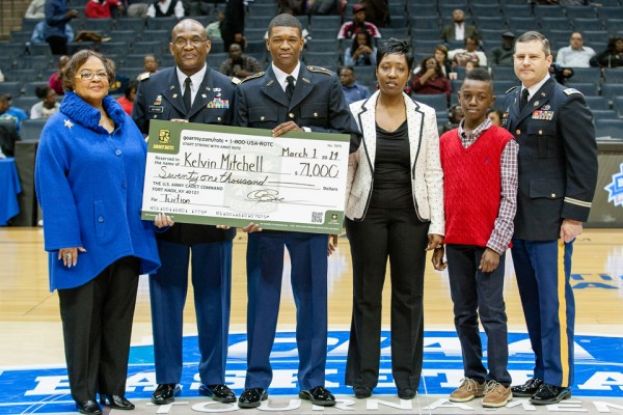 The U.S. Army recognized Saint Augustine's University Kelvin Mitchell, a freshman majoring in mass communication from North Charleston, S.C., with a $71,000 tuition and fees U. S. Army Senior Reserve Officer Training Corps (ROTC) scholarship on Saturday, March 1, in Charlotte, NC as part of the annual Central Intercollegiate Athletic Association (CIAA) Basketball Tournament. The Army has partnered with the CIAA for four years to develop and promote leadership, teamwork and academic excellence.
Another Saint Augustine's University Falcon, Jerrod White, a junior from Fayetteville, NC, also received a $38,416 ROTC scholarship. White is majoring in business.
The Army's partnership with CIAA is another example of the Army's commitment to helping young Americans create their own path to success. Mitchell and White are two of more than 377 ROTC Cadets at CIAA institutions receiving funds for tuition and educational fees through the Army ROTC program. Financial benefits include two-, three- and four-year scholarships, an annual book allowance and a tax-free stipend of up to $500 a month.
The Saint Augustine's University "Mighty Falcon Battalion" is one of 272 universities in the United States that hosts U. S. Army Senior ROTC. More than 60 cadets in the Mighty Falcon Battalion support Saint Augustine's University with leadership during convocations, football games, homecoming, founders' week, open houses and commencement.