Freshman Writing Initiative Conference Opened the Minds of Many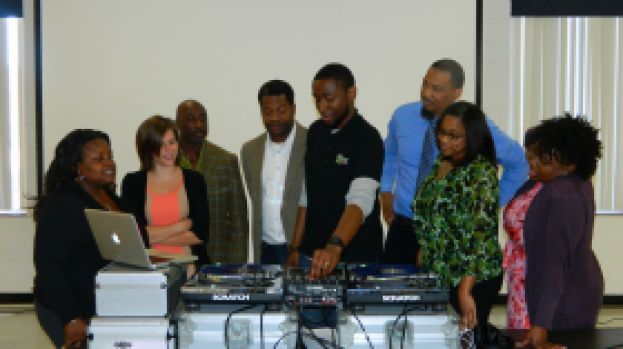 If the success of the inaugural Freshman Writing Initiative Fall Conference is indication of next year's conference, individuals may want to register as soon as they can. Between the workshops and presentations, the nearly 200 individuals that were in attendance were informed on ways to reach today's student, how to integrate popular culture into curriculum, how to improve students writing and critical thinking skills and how culture affects students' identity, expression, competency and learning.
"The 3 Rs conference was a transformative experience!," said Dr. Erica Russell, executive director of the Freshman Success Initiatives. "The featured presenters and guest facilitators were engaging, and they provided the attendees with practical strategies for working with students across disciplines. They challenged our thinking and reminded us of the value of culture as a point of connection and as a teaching tool. The Freshman Writing Initiative team aims to introduce faculty, staff and students to innovative approaches to fostering the development of writing and critical thinking skills, and the 3 Rs conference embodied that mission."
The featured presenters for the conference were Dr. James Peterson and 9th Wonder. Peterson is a critically-acclaimed writer, lecturer and speaker. He is also the director of Africana Studies and associate professor of English at Lehigh University and founder of Hip Hop Scholars, LLC. 9th Wonder, whose real name is Patrick Douthit, is a Grammy Award-winning music producer, record executive, DJ, lecturer, a Harvard University Fellow and an adjunct professor at Duke University.
9th Wonder kept attendees listening to his every word during his presentation on Hip Hop from the underground to the University. He shared with the audience that as a Fellow at Harvard University his responsibilities is to select the top 200 hip hop albums of all time to be catalogued in the Harvard library.
Throughout the conference, Saint Augustine's University students as well as students who traveled from Winston-Salem State University (WSSU) were engaged and intrigued.
Quishawnya Parker, a senior from Wilmington, DEL majoring in psychology with a minor, expressed how excited she was that she attended the conference.
"This conference is very powerful and insightful," Parker said. "I am very glad my professors encouraged me to attend. This [conference] truly was worthy of attending."
Cheri Broussard, event coordinator for Student Activities and Engagement at WSSU, stated that her students had an awesome experience.
"The students of Winston-Salem State University were not only excited, but inspired!," Broussard said.
The two-day conference was aligned with the goals and objectives of the Freshman Writing Initiative which aims to improve the writing proficiency and communication of first-year students and to train faculty in innovative writing and learning activities.