Freshmen Packaged More Than 10,000 Meals for the Stop Hunger Now Program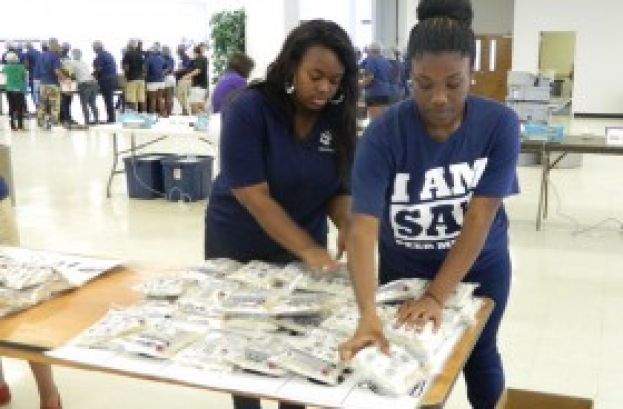 Students at Saint Augustine's University know what it means to help others. In the MLK Conference Room, more than 100 students adorned in "I Am SAU" t-shirts and hair nets participated in the Stop the Hunger Now community service project.Within an hour, SAU students packaged 10,152 meals. Each package contained six meals.
The Stop Hunger Now's meal packaging program is a volunteer-based program that coordinates the streamlined packaging of highly nutritious dehydrated meals comprised of rice, soy, vegetables, flavoring and 21 essential vitamins and minerals. The program targets school feeding and transformational development programs.
Dr. Jan Rivero, university relations director for Stop Hunger Now, stated that she would come back to Saint Augustine's University in a 'heartbeat.'
"Bringing our program to a university campus is always great," said Rivero. "It brings students together and it creates team building and after today, I would absolutely love to come to Saint Augustine's University again. I would do it in a heartbeat."
Students were energized and excited knowing that they were helping numerous people.
"I feel honored to be here to help others," said Akilah Jones, a junior from New Carrollton, MD. "This community service project means a lot. Giving back is the best feeling ever."
Ann Brown, director of the Office of Community Outreach and Volunteerism, expressed what a great experience it was for the students to participate in the Stop Hunger Now program.
"What an awesome and fun experience our students," said Brown. "The Stop Hunger Now program makes you feel like you are making a difference because you are physically packaging meals that will be eaten around the world. Our students made a difference and they were proud of their accomplishment."