Inaugural Resource and Involvement Fair was a Success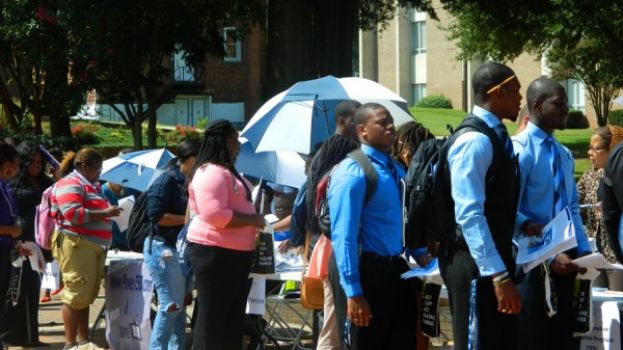 The MLK Mall on Saint Augustine's University's campus was filled with the Falcon Student Body for the inaugural Resource and Involvement Fair. Sponsored by the Freshman Success Initiative and the Belk Professional Development Center, the fair gave students an opportunity to speak with campus-based organizations as well as outside vendors regarding their specialty and/or resource. Some of the vendors included the Office of Financial Aid, the First-Year Experience Program, Gordon Health Center, NOBLE, WAUG-AM, Global Studies, Big Brothers and Big Sister of the Triangle, and Loaves and Fishes.
Students went from table to table gathering information on volunteerism. Freshman Kayla Cason said she thought the fair was really good.
"It was a good [resource] fair," said Cason, who is from Virginia Beach, Va., and member of the volleyball team. "I had no idea that there were so many different ways I can volunteer."
YMCA representative Shiona Caldwell said she was very impressed with the students she met.
"I am so impressed with the students I spoke with today," said Caldwell. "The students are just as interested if not more in volunteering as they are in the job opportunities at the YMCA."