New Student Government Association Officers Installed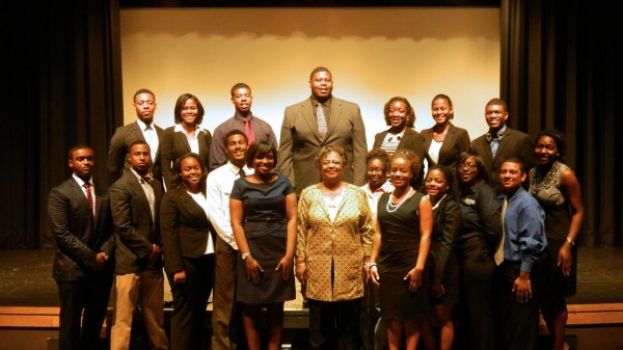 The energy and excitement was on high in the Seby Jones Auditorium for the 2013-2014 installation ceremony for the student government association (SGA).
President Dianne Boardley Suber installed the 2013-2014 Saint Augustine's University Student Body President Ashley Nelson. Nelson is a senior from Brooklyn, New York majoring in sociology.
"I am excited to have been selected as the student body president," Nelson said. "All we [student government association] ask of you is to continue to support us. Let's look to the future with high hopes."
During her installation address, Nelson stated the SGA's mission is to enhance the learning environment for the student body. She also provided SGA's initiatives for the academic year which included political awareness, community service and health and wellness. At the beginning of the academic year, Nelson said that SGA registered 280 freshmen to vote and organized the Falcon Pep Rally.
The members of the 2013-2014 Student Government Association are as follows:
Ashley Nelson     President
Kamaya Jabari     Vice President
 
 
Justin Miller     Board of Trustees Representative
David Frasier     Senior Class President
Justin Williams     Senior Class Vice President
Jamonica Facyson Junior Class President
Jacques Griffin     Junior Class Vice President
DeAsia Lewis     Sophomore Class President
Cadine Bramwell     Sophomore Class Vice President
Kelvin Mitchell     Freshman Class President
Shirece Anthony     Freshman Class Vice President