SAU Alum, Dr. Brian Hemphill '92 Announced Ninth President of Old Dominion University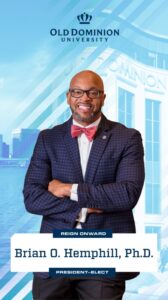 On February 12, 2021, Old Dominion University's Board of Advisors announced that Dr. Brian Hemphill will become the ninth president of Old Dominion University this summer. This decision was made by unanimous vote. 
Dr. Hemphill has led Radford since 2016 and has been hailed as an innovative and forward-focused leader there. He previously served as president of West Virginia State University for four years and vice president for student affairs and enrollment management at Northern Illinois University for eight years.
Dr. Hemphill received his bachelor's degree in organizational communication from Saint Augustine's University in Raleigh, North Carolina in 1992; his master's in journalism and mass communication from Iowa State, and his doctorate in higher education administration and policy studies from the University of Iowa.
Read the full story on Old Dominion University's website.
Congratulations Dr. Brian Hemphill!