SAU Announces Appointment of Associate Vice President of Institutional Research & Special Projects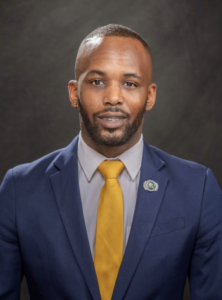 Saint Augustine's University (SAU) is proud to announce the appointment of Dr. Runell J. King as its new Associate Vice President of Institutional Research & Special Projects. In this role, which is designed to help continue and expand upon President McPhail's vision of reimagining SAU, Dr. King will be responsible for numerous areas, including Institutional Research & Effectiveness, Data Analytics, Undergraduate Research, and Special Initiatives of the President's Office.
Dr. King brings a wealth of experience to Saint Augustine's University. He has led successful research initiatives in higher education for many years, directing strategic planning and assessment efforts in academic affairs, admissions & recruitment, enrollment management, data analytics, statistical analysis, and more. His educational background includes a Bachelor of Art in Sociology from Dillard University, Master of Art in Higher Education Student Affairs Administration, Education Specialist (Ed.S.) with a concentration in Applied Statistics, and Ph.D. in Leadership & Research Methodology with a specialization in Applied Statistics, all from Louisiana State University.
"I'm thrilled to join the Saint Augustine's falcon family," expresses Dr. King on his new appointment. "This university has an amazing mission that places student success at the center of all its endeavors. I look forward to working with the community members at SAU to improve our students' experiences and sustain the institution's growth."
As part of his work at SAU, Dr. King will be leading efforts related to undergraduate research initiatives to engage students more deeply in research activities that support their academic growth and professional development goals. This effort is expected to significantly positively impact campus life while also providing further opportunities for student inquiry into various fields that align with their interests and aspirations.
In addition to overseeing research projects at SAU, Dr. King will also extend his expertise in data analytics to ensure that institutional effectiveness efforts are carefully monitored and tracked over time—providing essential feedback loop mechanisms for evaluating outcomes associated with various initiatives or programs implemented by or within the university environment as deemed necessary by President McPhail's vision for reimagining SAU overall.
The administration is confident that Dr. King's leadership skills, along with his deep knowledge of best practices in institutional research & special projects, make him an ideal fit for this vital role at Saint Augustine's University, where he can help continue its legacy of excellence through evidence-based strategies and plan interventions that address existing gaps or needs among its student body population or across campus operations holistically speaking over time moving forward into the future with precision and prudence.