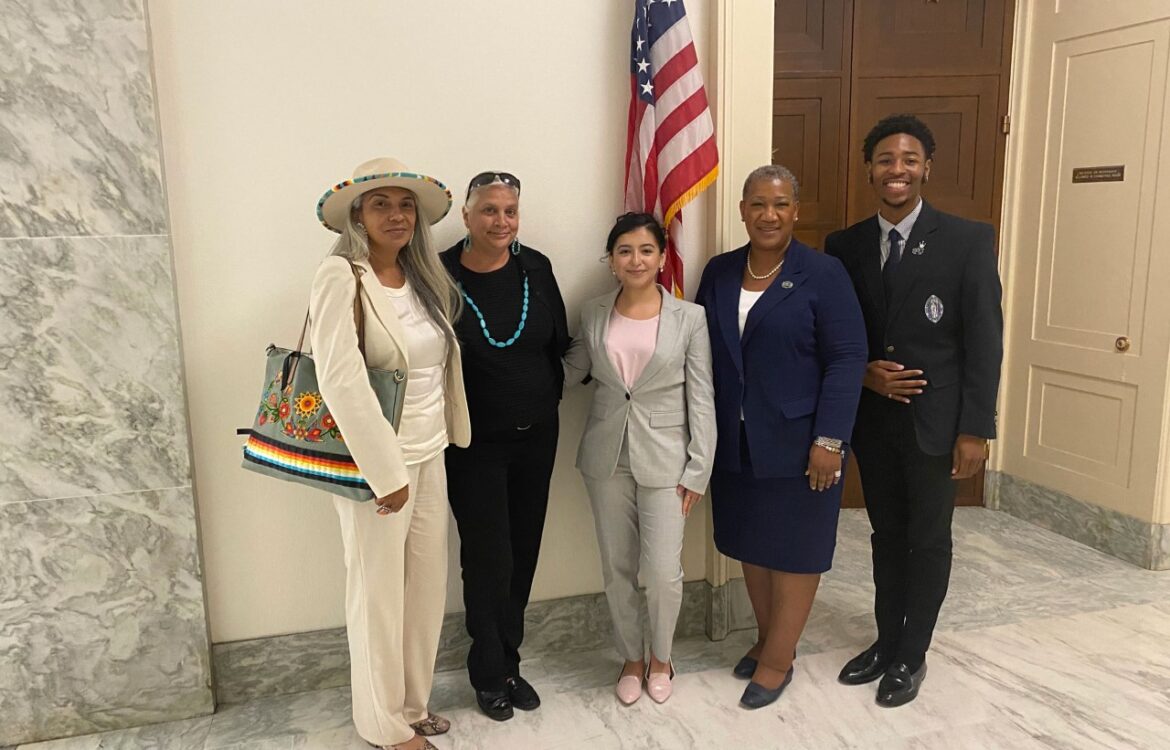 SAU Attends Congressional Hearing on Regenerative Agriculture 
Pictured Left to Right: AAIF President Mrs. Kara Boyd & members of AAIF with SAU Senior VP for Student Experience & Operations Dr. Leslie Rodriguez-McClellon and SAU student Mr. Miles Beasley
WASHINGTON, DC – On Tuesday, July 19, 2022, representatives of Saint Augustine's University (SAU) celebrated the 155th anniversary of its founding date on the floor of the House Chamber. U.S. Rep. Ro Khanna, Chairman of the Congressional Subcommittee on Environment, held a hybrid hearing to examine regenerative agriculture. 
"SAU has a legacy of leadership in social justice, diversity, equity, and inclusion," said SAU President Dr. Christine Johnson McPhail. "In celebration of our institution's founding date, our ancestors would be proud to witness this moment." 
As a result of SAU's recent partnership with the National Black Farmers Association (NBFA), Dr. Leslie Rodriguez-McClellon, Senior Vice President of Student Experience and Operations, and Miles Beasley, a rising junior majoring in communications, were present at the House Chamber floor with Mrs. Kara Boyd, President of the Association of American Indian Farmers (AAIF).  
"SAU's presence during the hearing displayed our continued support for AAIF and the NBFA," said Dr. Rodriguez-McClellon. "Our partnership is relevant to the university's five pillars: Global Competitiveness, Entrepreneurship, Public Health, Social Justice, and ST(R)E(A)M, as these pillars touch on every critical challenge and need of Black and American Indian farmers."  
The hearing examined how Congress can amend federal policies that unjustly protect corporate agribusiness. One of the witnesses included Mrs. Kara Boyd. In addition to being president of the AAIF, she serves as Program and Event Coordinator for the NBFA. Mrs. Boyd provided testimony for "Regenerative Agriculture: How Farmers and Ranchers are Essential to Solving Climate Change and Increasing Food Production." 
"I am a descendant of sharecroppers and a grandson of hard-working entrepreneurs and educators," Miles Beasley said. "As an SAU student, it was an honor to stand in solidarity with the AAIF and NBFA as an essential figure in the fight to solve climate change and increase food production." 
In addition, the hearing addressed the role Congress can play in preventing the worst climate crisis while protecting the food supply. The hearing also discussed the urgent need to reform federal policies that unjustly favor corporate agribusiness, often at the expense of family farmers. 
"The issues surrounding the Regenerative Act, regardless of opinion and position, provide a common understanding: Farmers and farmland are in crisis," said Dr. Rodriguez-McClellon. "SAU is aligned to assist in the work of AAIF and NBFA through our current research, educational and continuing educational support for farmers, and educational pathways for students in environmental science, agribusiness, social justice, and health disparities." 
Click here to watch the recording of the hearing. 
Click here to learn more about yesterday's hearing.