SAU Students Participate in Voter ID Hearing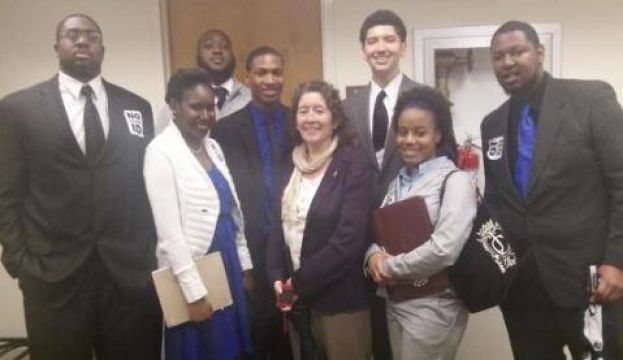 On Tuesday, March 12, Saint Augustine's University students voiced their opinion about a proposed voter identification requirement. Students attended a public hearing at the NC General Assembly on the topic.
Several students spoke with community activist Octavia Rainey on her radio show that morning about the potential impact, on college students in particular, of a new voter ID law. Back in 2011, many Saint Augustine's University students lobbied against a voter ID bill. The bill was not successful, but with new leadership in the state, the issue is up for discussion again.
Faculty, staff, and students participated in the hearing, as well as a voter ID educational meeting at First Baptist Church (101 S. Wilmington St.) sponsored by the NAACP. The meeting was followed by a rally, where the Rev. William Barber and others spoke to a small crowd of concerned citizens. SAU Junior Class President Kamya Jabari was invited to speak at the podium during the rally.
The voter ID public hearing was held at the Legislative Office Building. SAU Senior class president Malcolm Richbourg and Communications major Johna Mitchell shared the microphone with Nathan Weeks, a political science major from Shaw University.