Section of Durham highway named after historian and former SAU educator, Dr. John Hope Franklin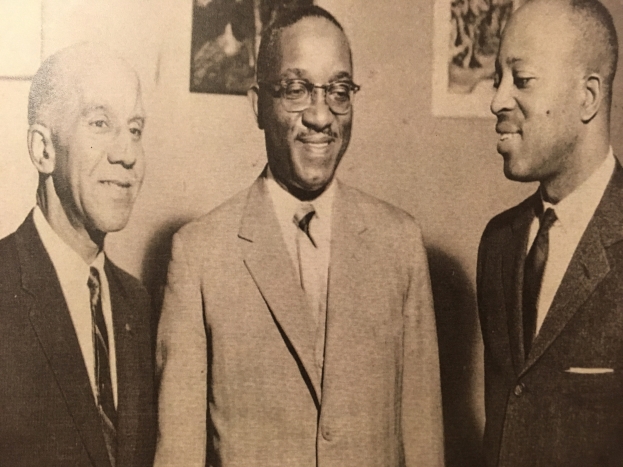 On Monday, November 27, a section of Interstate 85 in Durham was dedicated in honor of civil rights leader, historian, Presidential Medal of Freedom honoree, and former Saint Augustine's University (SAU) educator, Dr. John Hope Franklin. The event marked a prestigious moment in African American history due to the minimal presence of highways named for African Americans. The event also bears significant meaning for SAU, now in its sesquicentennial, as Dr. Franklin had a great history with the institution as an educator and colleague of multiple SAU presidents.
The John Hope Franklin Highway dedication ceremony was held at the Hayti Heritage Center in Durham. Members of Franklin's family unveiled a highway sign that will designate the section of I-85 between Cole Mill Road and U.S. 70 Bypass. SAU president, Dr. Everett B. Ward was among those who spoke at the ceremony, along with Gov. Roy Cooper, former U.S. Department of Transportation Secretary Anthony Foxx, Congressman G.K. Butterfield, and Durham Mayor Bill Bell. 
Dr. John Hope Franklin started his journey with a bachelor's in history at Fisk University and graduate and doctorate degrees from Harvard. In 1939, he taught at Saint Augustine's (then College). He also taught at the North Carolina College for Negroes, now North Carolina Central University, as well as Brooklyn College, Howard University, the University of Chicago, Cambridge University in England, and Duke University. At Duke, he established the Durham Literacy Center and served as a professor emeritus.  
Franklin went on to write several books, the most prominent one being published in 1947, "From Slavery to Freedom: A History of African-Americans," which is still considered the definitive account of the black experience in America. The book has sold more than three million copies, in many languages. 
After his book was published, Franklin left the faculty at NC Central University to teach at Howard University in Washington, D.C., where he and his work played an important role, helping lawyers for the NAACP. The team, led by Thurgood Marshall, developed the case that would lead to the Supreme Court's Brown v. Board of Education decision that declared laws creating segregated schools unconstitutional. 
Franklin would continue to break ground. His appointment to lead the history department at Brooklyn College in 1956 made him the first for a black professor at the school, and the news made the front page of The New York Times. After a year teaching at Cambridge University in England, he was invited to join the faculty of the University of Chicago in 1964. A year later, he joined historians who marched with Martin Luther King Jr. from Selma, Alabama, to Montgomery. 
President Dr. Everett Ward recounted the impact of Dr. Franklin's work and his history with SAU, and had this to say at the dedication: 
On behalf of Saint Augustine's University, it's indeed an honor to be here today as we commemorate the legacy of Dr. John Hope Franklin.  
Dr. Franklin served Saint Augustine's with notable distinction as a professor of history nearly seventy years ago. During that critical period in American history, Dr. Franklin motivated his students and colleagues to excel beyond traditional limitations.  
After learning of his doctoral requirements and the subsequent awarding of the Ph.D. degree from Harvard University, Dr. Franklin was advised by then Saint Augustine's President, Edgar Gould, to guard his professional actions toward colleagues that had limited educational attainment. However, fortunately for all of us, Dr. Franklin was driven internally by his own words. Dr. Franklin once stated, 'If the house is to be set in order, one cannot begin with the present, he must begin with the past.' Dr. Franklin dedicated his life to beginning with the past to ensure that American history reflected the enormous contributions of African American citizens. 
Today, as the 11th president of Saint Augustine's University, which now celebrates its 150th anniversary, I know firsthand, as a former Saint Augustine's student, the benefit of Dr. Franklin's intellectual resolve. One of my cherished treasures is my fifth edition of "From Slavery to Freedom: A History of Negro Americans." I used it as a student at Saint Augustine's University. Here we are seventy years later, after the first publication dated September 22, 1947, and Saint Augustine's University students, along with students around the world, are still gaining from the scholarship of Dr. John Hope Franklin. 
Gov. Roy Cooper also spoke highly of Franklin during the ceremony, stating that Franklin played a key role in determining the plans for his term as governor.  He stated, "I want to thank you for inviting me to honor a man who has honored this state, a man who has laid the ground work for the mission that I have for our state." 

Among Dr. Franklin's numerous awards is the Order of the Long Leaf Pine, North Carolina's highest honor for exemplary service to the state and the local community.  
Franklin's legacy has continued since his death in 2009 at 94 years old. Duke named three centers after Franklin: the John Hope Franklin Research Center for African and African American History and Culture in the Rubenstein Library; the John Hope Franklin Center for Interdisciplinary and International Studies; and, the John Hope Franklin Humanities Institute. 
Saint Augustine's University is proud to have such an icon intertwined in its 150-year legacy. The University honored Dr. Franklin during a 2017 Black History Month series.