UNCF Study Finds Saint Augustine's University to be a Positive Economic Impact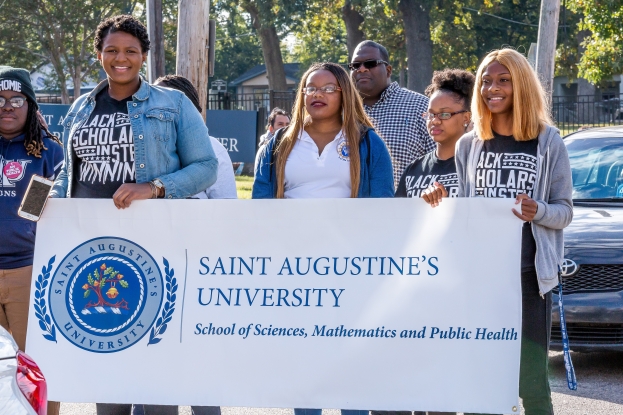 According to a landmark study commissioned by the United Negro College Fund (UNCF), Saint Augustine's University (SAU), located in Raleigh, N.C., is an important economic engine in its community, generating substantial economic returns year after year. This study, which was released Tuesday, November 14, 2017, makes clear, that while benefits flow to SAU graduates who enter the workforce with sharper skills and vastly enhanced earning potential, they also flow to the local and regional economies that are connected to the university.  
The study shows the significant economic contributions of Saint Augustine's University and other Historically Black Colleges and Universities (HBCUs) by focusing on the institutions' far-reaching economic effects felt in communities and nationwide, as well as the increased earning power of their students.  
"As a significant economic contributor to the local, state and national economies, we recognize the enormous impact this university has on the development of intellectual capital through its graduates, as well as increasing economic expenditures, statewide and nationally, "said Saint Augustine's University President, Dr. Everett B. Ward.  
Underwritten by Citi Foundation and prepared by the University of Georgia's Selig Center for Economic Growth, the report data includes specific HBCU fact sheets that illustrate that institutions like SAU significantly increase local, state and national job creation and economic development.  
The presence of Saint Augustine's in the Triangle-Area means a boost to economic activity, on and off, and well beyond the 105-acre campus, through stronger growth and stronger communities.   
To name a few facts from UNCF's study, Saint Augustine's University generates $72 million in total impact for its local and regional economies. Saint Augustine's University also generates 684 jobs for its local and regional economies. Of this total, 301 are on-campus jobs, and 383 are off-campus jobs.  The University plays a major role in the economic success of its graduates by enhancing their education, training and leadership skills. In fact, the 226 SAU graduates in 2014 can expect total earnings of $574 million over their lifetimes – that's 77-percent more than they could expect to earn without their college degrees.  And with 65-percent of Saint Augustine's University students being N.C. residents, North Carolina has a lot to gain from the success of these students. 
Click here for more details on the economic impact of Saint Augustine's University.