College Students Tackle Ethics and the Future of Community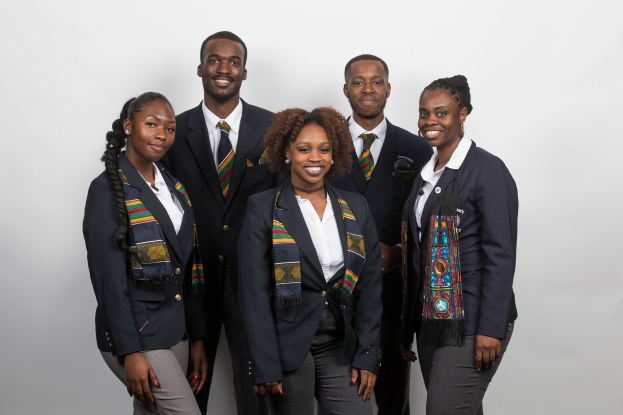 RALEIGH, NC – In today's society, 'community' means different things to different people. Hometowns, college campuses, churches and social media are a few of the communities with which we identify. The more than 120 college students participating in NCICU's annual Ethics Bowl, found the topic of "Ethics and the Future of Community" challenging and thought-provoking. Twenty-four of North Carolina's independent colleges and universities sent teams to the event which was held February 16 and 17 at the State Legislative Complex in Raleigh.
"The Ethics Bowl has a positive and significant impact on the individual student participants," said NCICU President Hope Williams. "It is a challenging competition and a rewarding experience that many students have indicated is a highlight of their college careers. "
Each team participated in four rounds after which the four teams with the most "wins" – Barton College, Chowan University, Gardner-Webb University and Salem College – met in two semifinal rounds. The semifinal round topic focused on cyber communities and how to exercise personal responsibility to ensure ethical standards and practices in social media.
Advancing to the final round where Chowan University and Salem College. The topic for the final round centered around the ethics of deporting undocumented immigrants. In the end, Salem College won the competition.
At a banquet honoring the participants Friday evening, five individuals presented their diverse interpretation of 'community'. The speakers were Dan Gerlach of the Golden LEAF Foundation; Leslie Garvin from NC Campus Compact; Roman Bouchev, formerly an international student, now US citizen; Lauren Raiford, a high school student; and David Heinen with NC Center for Nonprofits.
The Ethics Bowl is made possible because of the support of 29 sponsors, led by Duke Energy and Wells Fargo, and the participation of more than 70 volunteer judges and moderators who are leaders in business, government and non-profit organizations.
North Carolina Independent Colleges & Universities is the statewide office of North Carolina's 36 independent colleges and universities. NCICU represents independent higher education in the areas of state and federal public policy and on education issues with the other sectors of education in the state. It also raises funds for student scholarships and enrichment experiences, provides research and information to and about independent colleges and universities, conducts staff development opportunities and coordinates collaborative programs. For more information about NCICU, visit www.ncicu.org.