Saint Augustine's Honors the Memory of Esteemed Scholar, Athlete and Alumnus, Harvey D. Heartley, Jr.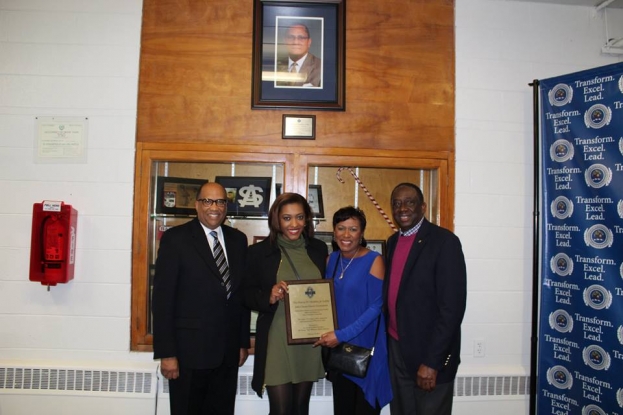 On Friday, February 10, 2017, the University dedicated the lobby of the Julia Chester Emery Gymnasium in honor of Harvey Delafonte Heartley, Jr., an esteemed scholar, athlete, alumnus and supporter of the institution. Mr. Heartley, a 1979 graduate of the former Saint Augustine's College, transitioned from this life on Tuesday, November 29, 2016. His legacy of scholarship and athletic excellence remain to this day and was made evident by the outpouring of love shown at the dedication.
Among those in attendance, were the wife, daughter, family, friends, and classmates of Mr. Heartley. Mrs. Heartley graciously spoke with an SAU representative and reflected on the life and legacy of her late husband, as well as his love for his alma mater:
Q: What does this moment mean to you to have your husband's legacy honored at SAU?
Mrs. Heartley:
It's bittersweet. Harvey loved Saint Augustine's. Today means a lot, more than I was expecting, but it is certainly fitting because he loved SAU unconditionally.
Q: Tonight we're honoring Mr. Heartley's legacy. What, in your opinion, did Mr. Heartley want his legacy to be?
Mrs. Heartley:
One that showed a love for humankind, and forgiving, and for always wanting to treat others as you would have them treat you.
Q: Your father-in-law, Harvey D. Heartley, Sr. was honored here just about two years ago with the dedication of the Julia Emery Chester gymnasium basketball court. Your husband, Mr. Heartley was here for that moment. How do you think he would feel to have his accomplishments honored in a physical location with such close proximity to his father's dedication?
Mrs. Heartley:
The thought of it and the honor of it is more than you can fathom…he would have never dreamed of it.
Dr. Everett B. Ward, president of Saint Augustine's University, and Coach George Williams, athletic director, hosted the event, and together, unveiled the lobby's showcase which displayed photos and memorabilia of Mr. Heartley. Reflecting on the special occasion, Coach Williams offered the following remarks:
The dedication of the lobby of the Julia Chester Emery Gymnasium to Harvey Heartley, Jr. continues the legacy of his father Harvey Heartley, Sr. The floor of the Julia Chester Emery Gymnasium was also dedicated to his father who served as the head basketball coach for Saint Augustine' College (now University) for over 25 years. What a touching tribute to have the father and son being recognized in this manner. I had the privilege of knowing Harvey, Jr. as a student, a fraternity brother, and a friend. I must add that I was his basketball coach in the 70s. So the bond of respect and admiration we had for each other was formed early on. Now, his love and support for his alma mater will forever be etched in the history of Saint Augustine's University for future Falcons.
From the smiles and tears in the room during the dedication, it was clear that many other people share in Coach's fond feelings and memories of Mr. Heartley. According to Mrs. Heartley, that love and admiration was felt by her late husband as well. She concluded her reflection on the evening by saying:
"Let me just say this–there were three things Harvey loved and kept at the forefront of his heart: that was God, his family, and Saint Augustine's."
The Saint Augustine's community will forever remember and uphold the legacy of Harvey D. Heartley, Jr., a treasured and dearly missed member of the Falcon Family.
—-
The Harvey D. Heartley, Jr. dedication was an official Saint Augustine's University Sesquicentennial Year event.