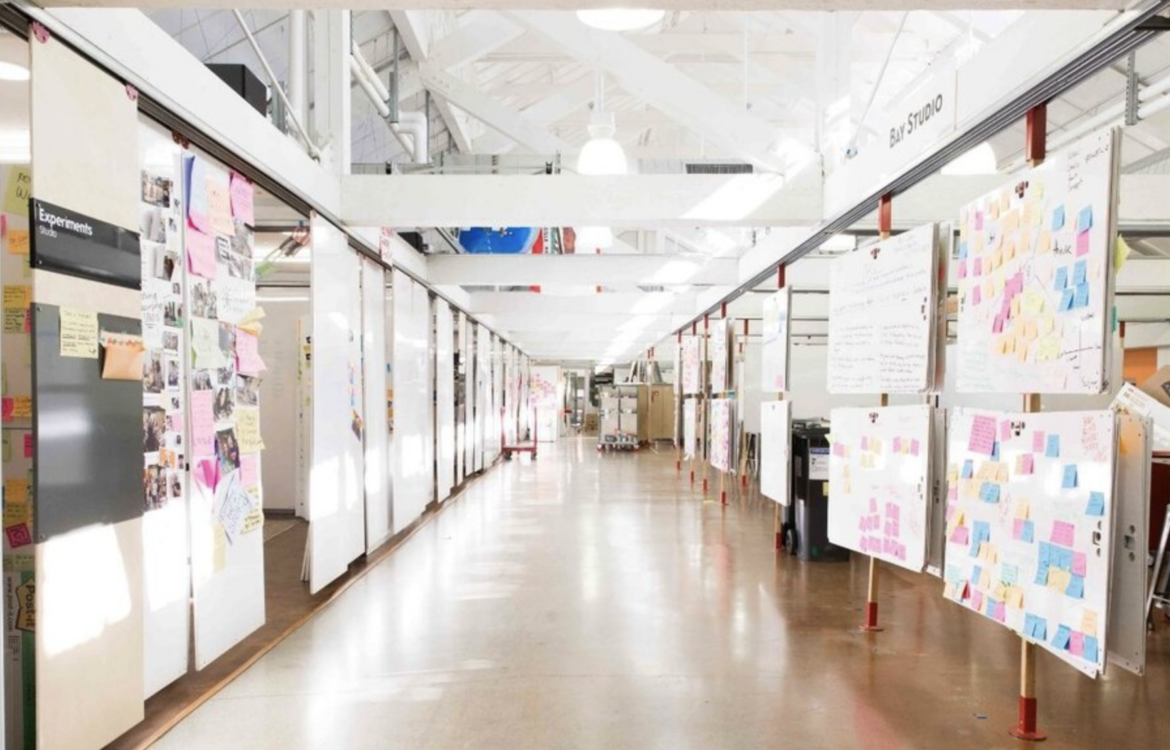 Saint Augustine's University Selected to Join Prestigious University Innovation Fellows Program Sponsored by Stanford University
Photo courtesy of Hasso Plattner Institute of Design at Stanford University
Saint Augustine's University (SAU) joins the prestigious University Innovation Fellows (UIF) program sponsored by Stanford University's Hasso Plattner Institute of Design (d.school).
The UIF program teaches students about innovation and design-centered thinking while empowering them to become change agents for their respective universities. Design thinking is a way to define and solve problems with a focus on empathy and having the end-user mind when designing and executing solutions.
"SAU applied for the UIF program in spring 2022," explained Terry T. Kidd, Ph.D., Vice President of Strategic Planning, Research, Technology and Innovation, and champion for the UIF program. "This is a tremendous honor, opportunity, and turning point for SAU. For the first time in our history, SAU and our students will be connected to students from around the nation, learning how to unleash the power of creativity and innovation to solve pressing challenges in our institution. UIF will be instrumental as we transform our organizational culture and student experience through innovation and technology. It's all about preparing our students for the 21st century and equipping them with tangible skills for ultimate success."
The University Innovation Fellows program is a student-led initiative through which students will have an opportunity to showcase their innovative and entrepreneurial skills. A centerpiece of the program allows students to attend an in-person UIF Silicon Valley Meetup conference at Stanford University and Google in March. Here, fellows from across the nation will meet to network and discuss their projects. Faculty champions will also be on hand to support their students and strategize over ways to better assist them.
"Our students will join a global community of students leading change in higher education," said SAU President Dr. Christine Johnson McPhail. "This opportunity represents our leadership team's commitment to finding innovative and powerful ways to reimagine our wildly important goal of student success and university sustainability."
UIF program leaders will train candidate fellows during an intensive six-week period to conduct in-depth analyses of their campus ecosystems and provide them with tools and resources. They explore frameworks, including Design Thinking and Lean Startup, and use their new knowledge to develop unique projects that address needs at their schools.
After training, the fellows receive year-round mentorship, connect digitally, and attend national conferences and events. This global network of like-minded students helps our fellows learn from one another and create multi-institution collaborations.
"This diverse group of student leader-scholars will be able to use their experiences with the UIF program to build on what they have learned at SAU to become the innovative, creative, and change-oriented future leaders our world needs," said Dr. Janelle Jennings-Alexander, Assistant Professor of English and Associate Vice President of Academic Affairs. "I am honored and excited to have the opportunity to work with and learn from them."
As a result of new funding, Stanford can now offer historically Black colleges and universities (HBCUs) an opportunity to participate in the University Innovation Fellows program. In addition, through the generosity of a UIF donor, all program fees and associated participation expenses were covered.
"With this opportunity, SAU students are well on their way to bringing creative and innovative solutions to life," said Veronica Creech, Vice President of Economic Development and External Engagement.
This exciting venture was led by Vice President Terry Kidd, Ph.D., and Vice President Veronica Creech, along with Dr. Janelle Jennings Alexander, Associate Provost of Academic Affairs, and Professor Marci Jiles, Assistant Professor of Exercise Science.
About the University Innovation Fellows Program
The University Innovation Fellows program empowers students to become agents of change at their schools. The fellows are a global community leading a movement to ensure that all students gain the attitudes, skills, and knowledge required to navigate a complex world. These student leaders from schools around the world create opportunities to help their peers build the creative confidence, agency, and entrepreneurial mindset needed to address global challenges and to build a better future.
Fellows create student innovation spaces, start entrepreneurship organizations, facilitate experiential workshops, work with faculty and administrators to develop new courses, and much more. They serve as advocates for lasting institutional change with academic leaders, lending the much-needed student voice to the conversations about the future of higher education.
In addition to the student program, the University Innovation Fellows team offers a faculty workshop: the Teaching and Learning Studio. This in-person experience helps higher education teachers and administrators use design thinking to create student-centric learning experiences.
The University Innovation Fellows is a program of Stanford University's Hasso Plattner Institute of Design (d.school). The program was created as part of the National Center for Engineering Pathways to Innovation (Epicenter), a five-year National Science Foundation grant.