SAU Academic Bowl Team competes in Honda Campus All-Star Championship National Qualifying Tournament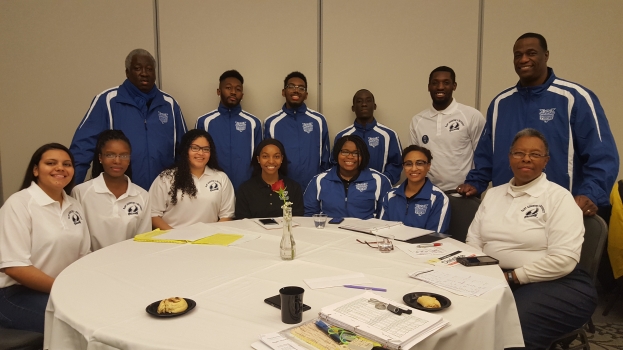 Saint Augustine's University (SAU)Honda Campus All-Star Championship (HCASC) Team participated in the National Qualifying Tournament in Richmond. SAU was paired up with Voorhees College. While the team did not advance at the tournament, they are awaiting results of a vote that could qualify them for the national tournament. 
The SAU HCASC Team:  
Mr. Kendrick Cunningham, political science major
Ms. Naudia Gay, biology major
Ms. Angela Gutierrez, accounting major
Ms. Angie Mejia-Ruiz, psychology major
Ms. Brandi Geary, team coach
Dr. Sevealyn Smith, team advisor
The Honda Campus All-Star Challenge is a year-round program that includes campus engagement, intramural play, qualifying tournaments and culminates with the National Championship. In 1989, Honda established HCASC as a way to highlight and recognize the academic talents of HBCU students. More than $8.5 million in grants from Honda have provided support for scholarships, facility upgrades and other investments to improve the student experience. This year's challenge features more than 10,000 HBCU student competitors.
The fast-paced buzzer competition highlights students' academic prowess and ability to answer questions about history, science, literature, religion, the arts and pop culture. Saint Augustine's University is one of 65 teams competing for institutional grants and a spot in the Honda Campus All-Star Challenge National Championship Tournament taking place in Los Angeles, April 7 – 11, 2018.  Ms. Brandy Geary is the coach of the Saint Augustine's University team.  Dr. Sevealyn V. Smith, Dean of the General College, will also be with the team, which is comprised of two international students and two students from the United States.