SAU WINS CIAA WOMEN'S BASKETBALL HIGHEST TEAM GPA AWARD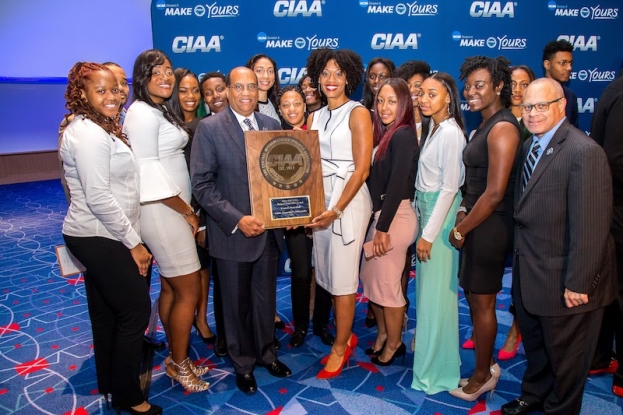 Lady Falcons Capture Prestigious Academic Honor Seven Times In The Last Eight Years
CHARLOTTE, NC (Feb 20) – On Monday, Saint Augustine's University (SAU) won the CIAA Women's Basketball Team Highest Grade Point Average Award at the CIAA Tournament Basketball Tip-Off Awards Luncheon at the Charlotte Convention Center.
The Lady Falcons earned their seventh CIAA highest grade point average award in eight years with a 3.39 GPA. This is the first season SAU has received the honor under the guidance of first-year full-time Head Coach Jarita Crump, who was an assistant when the Lady Falcons captured the award in the 2014-2015, 2013-2014, 2012-2013 and 2010-2011 seasons. Crump has been a part of five Lady Falcon squads which posted the conference's highest women's basketball GPA in her six years as either head coach or assistant coach at SAU.
"I am extremely proud of these young ladies," Crump said. "They understand the tradition of our women's basketball program and how much we pride ourselves in striving for excellence in the classroom."
The members of the Lady Falcons basketball team are Kelsee Arnold (So./Fayetteville, GA), Maiya Gibson (Jr./Randallstown, MD), Ja'Yon Leak (Fr./Charlotte, NC), Quiera Gilmore (R-Fr./Charlotte, NC), Ke-Ashe Lee (Jr./Roanoke, VA), Kiana Clark (Fr./Queens, NY) Kamya Renwicks (Fr./Baltimore, MD), Nadjae Stokes (Fr./Roanoke, VA), Tomisha Davis (Jr./New Bern, NC) Paulette Addison (Jr./Wilmington, NC), Kaaliya Williams (Fr./Richmond, VA), Shakeisha Washington (Sr./Atlanta, GA) and Teeria Vaughan (Sr./Walterboro, SC). The assistant coach is James "Art" Richmond.